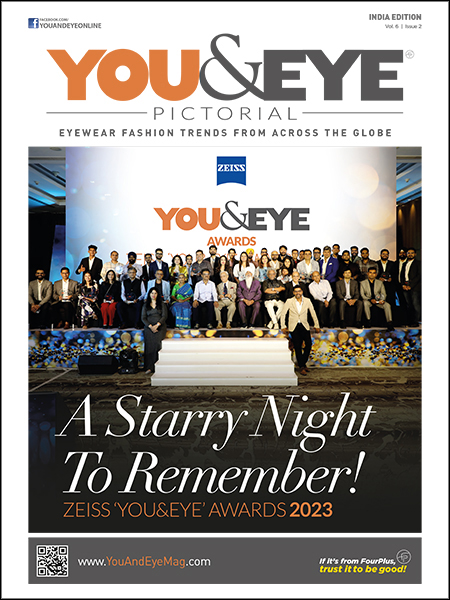 ZEISS 'YOU&EYE' AWARDS 2023: A Starry Night To Remember!
A 'Stellar Night' of magical celebration, recognition, and a touch of glamour was hosted at the ZEISS 'YOU&EYE' AWARDS 2023 that took place on the 16th of April, 2023 at Pride Plaza in New Delhi
The event was certainly a night to remember, celebrating the best and brightest in the field of optical business and showcasing the advancements that are being made in eye care every day. The event left attendees feeling inspired and motivated to continue pushing the boundaries of what is possible in optical retail.
The night was an explosion of joy and revelry, with leading opticians from all over India coming together to honor excellence in their field at Pride Plaza in New Delhi. Siraj Bolar, Editor-in-Chief, VisionPlus Magazine, and CEO, FourPlus Media welcomed everyone enthusiastically with his kind words.
The grand evening included award announcements, entertainment, some fantastic networking opportunities, and of course a fantastic mix of food and beverages that simply lifted the flavor of the event! A fun and lighthearted celebration of the best and brightest in the world of optometry. It was a reminder that even when it comes to something as serious and significant as vision care, there's always room for a little humor and a lot of spectacles. It was truly a sight to behold!
Grateful to our Title Partners ZEISS, for their support and encouragement. Carrera and Cali4nia for their contribution towards making this event bigger and better.
Mr. Siraj Bolar and Mr. Jasbir Bolar of VisionPlus and Mr. Rohan Paul of Carl ZEISS India presented the trophies to the runner-ups and winners across various categories.
The celebration was followed by Rohan Paul's- Business Head, Carl ZEISS, speech thanking the opticians for their efforts and participation.
The winners and nominees alike were praised for their dedication and their commitment to improving the field of vision care. It was a great night full of laughs, cheers, and celebration.